Estate agents launch new property website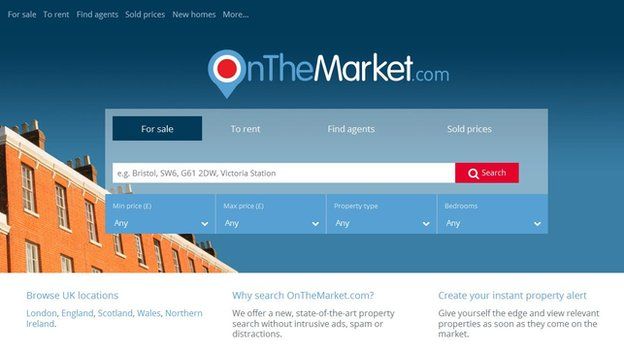 A group of estate agents has launched a new property website to rival Rightmove and Zoopla, which dominate the market.
Called Onthemarket.com, it has been set up by a consortium of estate agency firms from around the UK.
All agents that use the new site to advertise their properties for sale will automatically become part owners of the new business.
But to join, they must agree not to advertise with one of the big two established websites.
Onthemarket.com's chief executive, Ian Springett, spelled out the new site's aggressive approach.
"In order to enter a market where two major players are so dominant, Onthemarket.com member agents commit only to advertise their properties on one other portal," he said.
"In practice, this means in most cases removing their properties from either Rightmove or Zoopla.
"The result is that... as well as losing large amounts of property stock, Rightmove and Zoopla will also suffer a substantial hit to their income," he added.
In response to the start of the new website, Lawrence Hall of Zoopla was scathing.
"This new portal, owned by about one in four High Street estate agents, is a regressive business model trying to stifle innovation at the expense of home sellers up and down the country," he said.
"It creates the single biggest conflict of interest we have ever seen between an agent and their client where the agent is now trying to limit exactly what the seller is paying for - maximum exposure of their property."
The new site says it already has 2,200 estate agents signed up, operating more than 4,600 branches between them.
Many, the new business said, have also agreed to advertise their properties only on the new site for the first 48 hours, before advertising them elsewhere.
Property commentator Henry Pryor said the new website would cause confusion.
"This will make life harder rather than easier in the short term," he said.
"It will make things more frustrating because it won't make it easier or cheaper to find properties to buy or rent."
Their businesses are enormously profitable with Rightmove making annual profits of £104m on a turnover of £140m, and Zoopla making annual profits of £39m on a turnover of £80m.
A big attraction for estate agents who join Onthemarket should be lower fees for advertising properties for sale to to let.
Rightmove said its basic fees were £720 a month for each branch of a sales agency, and £395 ar month for each branch of a lettings agency.
Zoopla said its average fee per agent was £323.
By contrast, Onthemarket said its typical fees for a selling agent might range from £177 a month to £655 a month depending on its location, with central London branches attracting the highest fees.
Its fees for a letting agent will be half that of a selling agent.
Online-only estate agents, with about 2% of the market, will not be allowed to join the new business.
One of them, Alex Gosling of House Simple, denounced the new initiative as a purely protectionist measure by traditional estate agency businesses.
"Onthemarket is the High Street agents' cynical, anti-competitive and desperate reaction to a market that is changing," he said.
"Homeowners are fed up paying the exorbitant fees High Street agents charge for a poor and inflexible service."
Related Internet Links
The BBC is not responsible for the content of external sites.