Qantas scraps fuel surcharge but raises fares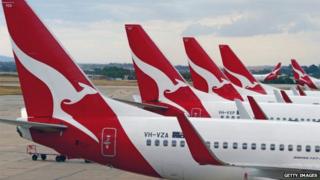 Australian carrier Qantas will axe fuel surcharges on international ticket prices, but will raise base air fares to compensate for the cut.
The airline said on Tuesday that fares would not change, because the surcharge would be "absorbed" into base fares.
The move comes despite a call for the airline industry to cut fares on falling oil prices.
But Qantas said air fares were very competitive and lower than when the surcharge was introduced a decade ago.
"If you look at the trends in global aviation over the past decade, costs and competition have been increasing while fares and airline margins have been falling," said Chief Executive Alan Joyce in a statement.
"The dynamics of this market have seen Qantas International post significant losses in the past two years," he said, adding that yields were still significantly lower than before the global financial crisis.
The national carrier is recovering from the heavy losses and announced last month that it expects to post its best first-half result since 2010.
That compares to its record A$2.8bn ($2.2bn; £1.5bn) net loss in the 12 months to June last year.
Oil's impact
Oil prices have fallen 60% since a peak in June, and in December the International Air Transport Association (Iata) predicted that average return fares for passengers would be more than 5% lower this year.
But Qantas pointed out that with the lower fuel prices, Iata estimates that net profit airlines make per passenger this year will increase by just $1 to $7, compared with last year.
Qantas is not the first airline to scrap the oil surcharge on air fares.
Rival carrier Virgin Australia ended its last remaining fuel surcharges last week, while Malaysian budget airline AirAsia said on Monday that it was also removing them in all its regional affiliates and long-haul operations.
In the Middle East, Emirates said it was considering removing the charge last week, while Qatar Airways said it will reduce the cost.