World tourism numbers top 1.1 billion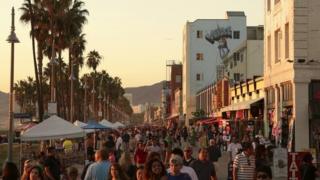 Global international tourist numbers exceeded 1.1 billion in 2014, an increase of 4.7% on the previous year, according to the UN.
The Americas and Asia saw the strongest growth in international visitor numbers.
Europe continued to be the most visited region, according to the UN World Tourism Barometer.
Visitor numbers to sub-Saharan Africa appear not to have been affected by the Ebola disease outbreak, the UN said.
Similarly, the number of international tourists visiting the Middle East also appear to have risen, despite unrest in some countries in the region.
However, the UN warned that data for these areas was "volatile".
"Over the past years, tourism has proven to be a surprisingly strong and resilient economic activity and a fundamental contributor to the economic recovery by generating billions of dollars in exports and creating millions of jobs," said UN World Tourism Organization secretary-general Taleb Rifai.
Russia drops
Ebola in some West African countries failed to make a dent in visitor numbers to Sub-Saharan Africa, which saw a rise of 3%.
Europe saw over half of the world's tourists, with northern, southern and Mediterranean countries seeing the most growth in the continent.
Visitor numbers to central and eastern Europe stagnated. The number of people travelling from Russia saw a 6% decline.
The Americas saw the most growth, with a 7% rise in tourist numbers. Mexico saw a double-digit increase, and north America saw an 8% increase.