City Link owner Jon Moulton says overtime will be paid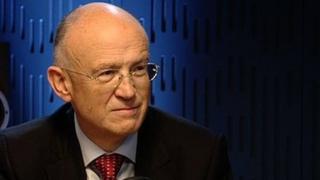 City Link employees will receive overtime payments, according to the founder of the company which owns the collapsed parcel delivery firm.
Jon Moulton made the comments during an appearance before MPs who were looking into how the firm ended up in administration on Christmas Day.
His investment company, Better Capital, bought City Link in 2013 for £1.
Mr Moulton was questioned repeatedly over the role of his firm in City Link's collapse.
City Link had been been struggling for many years before Mr Moulton's private equity company took it over. Mr Moulton said they had been unable to turn it around.
Overtime
"We have lost twenty million pounds," said Mr Moulton in a joint session of the Scottish Affairs Committee and the Business, Innovation and Skills Committee.
"There was no brilliant game, property angle, nothing taken out the back door. We killed ourselves to try to save this company and we failed."
However, he had a word of reassurance for workers who feared they would lose their overtime payments.
"It's my understanding that they will receive 100% of their overtime," he said.
'Horrible position'
At the beginning of November Mr Moulton said the firm was in active discussions to sell City Link as well as pursuing refinancing plans.
On 18 December, Mr Moulton said he had been in contact with the Department for Business advising that administration was a serious possibility.
It was only on 22 December that it became clear there was no solution and that administration was unavoidable, he said.
Mr Moulton said he had hoped to put the business into administration on Boxing Day, "the least worst solution".
"We were in the horrible position, that insolvency was inevitable on December 22 but this would have had a catastrophic effect on the public with undelivered parcels."
He said that Better Capital had injected another two million pounds into the City Link on 22 December to cover payments to cover the cost of deliveries on 23 and 24 December.
Taxpayers' bill
He also faced criticism for the way the company changed employment terms, which resulted in many workers becoming self employed contractors.
"I don't see there was anything wrong in changing terms and making people self-employed. Some will have done better out of it, some worse. I am sure both happened," he said.
Mr Moulton said the taxpayer would have to foot an estimated £4m bill for staff redundancy payments.
In hindsight, he said it was a huge mistake buying the loss making firm. He admitted that the decision to invest in City Link had been a mistake and that it had harmed his reputation.