Ikea reports flat profits despite rising sales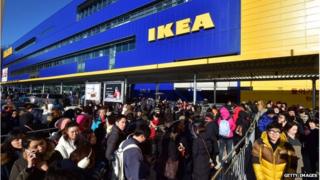 Ikea, the world's biggest furniture retailer, reported flat profits last year despite rising sales worldwide.
Profits at the Swedish flat-packed budget furniture company were held back by spending on employee loyalty and bonus programmes and price reductions.
Net profit was €3.3bn (£2.4bn, $3.7bn) in the 12 months to August 2014 and sales rose 5.9%, to €28.7bn.
The group which earns most of its revenues from Europe saw sales rise fastest in China, Russia and Hungary.
Ikea said Chinese urbanisation and a growing middle class there is boosting demand for home furnishing.
Chief executive Peter Agnefjall said: "North America performed well and while the challenging economic situation may not be over, Europe continued to show improvements.
"An especially positive sign was the growth in most of southern Europe,"
Ikea said it gained market share in nearly all its markets and repeated a target to grow sales to €50bn by 2020.
Ikea's online service, Ikea.com had more than 1.5 billion visits and is operating in 13 of its 27 markets