BT puts aside £2bn to reduce swelling deficit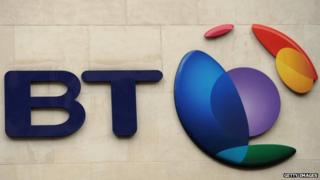 BT has set aside £2bn to start reducing its swelling pension deficit.
The telecoms group said that its deficit had grown to more than £7bn, from just under £4bn in 2012.
BT, the UK's largest fixed line telecoms group, said the payment was the start of a 16-year recovery plan.
The company, which is also in exclusive talks to buy mobile provider EE from Deutsche Telekom and Orange, reported profits up 12% at £694m for the third quarter.
The £2bn put aside to start paying off the deficit is actually less than it proposed back in 2012, but the plan is stretched out over a longer period.
Chief executive Gavin Patterson said the 16-year recovery plan reflected "the strength and sustainability of our future cash flow generation".
Even so the size of the deficit took the market by surprise and BT shares fell by more than 2% or 10p to 419.1p.
Best ever quarter
BT has been working to transform itself over the last few years in to what's called a "Quad Play", that is providing services spanning mobiles, telephony, broadband and Pay TV.
Mr Patterson said that the quarter was BT's best ever quarter for fibre broadband net additions.
And he added: "Openreach [BT's landline maintenance operation] achieved the highest growth in the number of landlines on record".
Its competitiveness against broadband rivals Sky and TalkTalk has been bolstered by the offer to customers of free Premier League football.
In the 2012 auction of TV broadcast rights for Premiereship matches, BT Sport unexpectedly bid £738m to secure 38 Premier League matches each season for three years.
Now it faces what could be an even more expensive auction in February for broadcast rights for 2017/18.
Richard J Hunter, Head of Equities at Hargreaves Lansdown Stockbrokers, said: "The current discussions on the renegotiation of Premier League TV rights could prove costly.
And BT's revenues slightly missed their targets. But the movement in the share price is only 2-3% and that's not a huge amount bearing in mind it has gained 16% over the last year."