Ryanair raises full-year profit forecast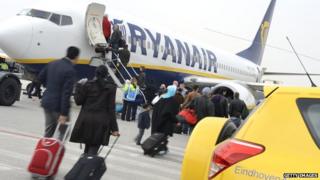 Ryanair has raised its guidance for its annual results as it returned to profit in the last three months of 2014.
The Irish airline said traffic for the three months to 30 March was expected to rise by 25%, while falling oil prices would cut costs by 5%.
It increased guidance for full-year net profits from between €810m and €830m to a range of €840m to €850m.
However, it warned shareholders and analysts to "temper expectations" for full-year profits in 2015-16.
Investors focused on the longer-term outlook and shares in the airline closed down 6%.
Ryanair said: "We believe that any growth in profits will be modest as our fuel is hedged at $92 [ a barrel], whereas some competitors... will be significant beneficiaries of lower oil prices and this may lead to downward pressure on airfares in 2015-16."
Neil Sorahan, Ryanair chief financial officer, said the falling oil price might benefit other airlines in the short-term, but added: "They still don't have the advantage that we have of a very, very low ex-fuel cost per passenger - some 70% lower than the next closest, Easyjet. Hedging is all about certainty."
'Cast-iron guarantee'
The airline, which holds a 29% stake in Aer Lingus - the subject of a €1.4bn takeover bid by British Airways owner IAG - said it had received no formal offer for its holding and that it would "carefully consider" any approach.
Ryanair chief executive Michael O'Leary said the concerns of the Irish government - the other big shareholder in Aer Lingus - about its sale to IAG were misplaced.
"More people fly to other London airports than fly to Heathrow on a daily basis from Ireland, so much of the noise about Aer Lingus or connectivity or Heathrow slots is entirely misplaced in what is a rapidly changing modern aviation world," he said.
Irish Prime Minister Enda Kenny said on Sunday that IAG must provide a "cast-iron permanent guarantee" on flights to Ireland if the government was to consider the takeover offer for Aer Lingus.
Share buyback
The better-than-expected €49m net profit for Ryanair's third quarter compared with a loss of €35m for the last three months of 2013.
Traffic jumped by 14% to 21 million customers in the quarter. Average fares were up 2% to €40 as revenues increased by 17% to €1.13bn, while costs fell 6%.
Load factors - a measure of how full its planes were - rose six percentage points to 88%.
Ryanair also announced a €520m special dividend of €0.375 a share to be paid on 27 February.
A €400m share buy-back programme will start on 12 February and continue until August. Shares in Ryanair have risen more than 40% in the past 12 months.
Ryanair operates 1,600 flights a day in 30 countries with a fleet of 300 Boeing 737-800 aircraft.
It expects to carry 100 million customers in 2015-16 - the first EU airline to exceed the 100 million mark in a 12 month period.