BP profits hit by lower oil price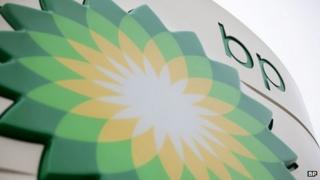 BP has reported lower profits and says it will cut spending on exploration because of the fall in oil prices.
Underlying profits in the final three months of 2014 were down 20% on a year earlier at $2.2bn (£1.5bn). For the full year, profits fell 10% to $12.1bn.
The oil giant also said it would be cutting capital expenditure plans by $4bn-$6bn this year.
BP's share price is down 16% since last summer due to lower oil prices, which have fallen 50% in the past six months.
Separately, fellow UK energy company BG Group said it was writing down assets worth almost $6bn due to the weaker oil price.
Russian troubles
"We have now entered a new and challenging phase of low oil prices through the near and medium term," said BP chief Bob Dudley.
BP wrote down $3.6bn of assets to reflect the lower value of its operations and reserves given the weaker oil price. After taking account of this write-down and other one-off items, BP reported a loss for the quarter of $969m.
The company was also hit by lower income at Russian energy giant Rosneft, where estimated underlying profits fell to $470m in the final quarter of 2014 from $1.1bn a year earlier. This was due to sanctions against Russia following its actions in the Ukraine and the weak rouble.
BP owns a 20% stake in Rosneft.
The UK-based company also took a further hit of $477m in the final quarter from legal and clean up costs relating to the Gulf of Mexico oil spill in 2010. The total cost of the spill now stands at $43.5bn.
Analysts said that given the tough market conditions, BP's results proved the company's resilience.
"Set against headwinds which would have blown lesser forces off course, BP has continued its steady, if treacherous, recovery," said Richard Hunter from Hargreaves Lansdown Stockbrokers.
He added that the company's commitment to making dividend payments the "first priority" would reassure investors.
BP's share price was up 2% in afternoon trading in London, having been 3.5% up straight after the results were announced.
---
Analysis: Kamal Ahmed, BBC business editor
As Bob Dudley, BP's chief executive, told me at the World Economic Forum at Davos, the oil major expects the oil price to remain low for up to three years.
Now, that may be a little pessimistic. The price of Brent crude has been creeping up over the last week and American production of shale oil is being cut, which will tighten supply.
But Mr Dudley is making the "low price for a long time" argument for a reason.
He wants to push BP on costs, demanding that it becomes an oil major fashioned for an oil price between $50 and $100 a barrel rather than one only comfortable when oil is over $100 a barrel.
---
'Resetting BP'
BP said the average oil price between October and December last year was $77 a barrel, compared with $109 a year earlier. So far this year, the average price has been $48.
Oil prices have fallen due to rise in supply, largely from US shale producers, and a fall in demand, mainly due to China's slowing economic growth.
Many experts believe oil prices will remain low - below $80 a barrel - for the next two to three years.
"Our focus must now be on resetting BP - managing and rebalancing our capital programme and cost base for the new reality of lower prices," said Mr Dudley.
Part of this process is cutting back on investment - the company said capital expenditure would be about $20bn in 2015, compared with its original forecast of $24bn-$26bn.
A number of oil majors have announced big cuts in spending this year. Shell, for example, has said it will cut expenditure by $15bn over the next three years.