Tesco's ex-boss and finance officer to share £2m payout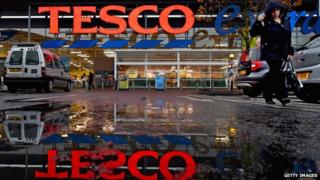 Tesco's former chief executive and finance director will share £2.2m in severance pay after the supermarket said it was "contractually committed" to make the payments.
Philip Clarke and Laurie McIlwee, who left the firm last year, will receive £1,217,000 and £970,880 respectively.
The payments were initially suspended while Tesco investigated last year's £263m accounting scandal.
Tesco said it had taken legal advice and could not withhold the payments.
"Defending costly claims for the payments would not be in the company's best interests," it added in a statement.
In September, Tesco stunned investors when it announced that it had misstated its half-year profit guidance by £250m - a figure that was subsequently revised to £263m in October.
Mr Mcllwee resigned as chief finance officer in April last year - before the accounting irregularities were uncovered - while Mr Clarke was ousted in July after he failed to halt a dramatic decline in both sales and profits.
Tesco said it was "contractually committed" to make the relevant payment to each former director unless it could legally establish a case of gross misconduct against him.
The Serious Fraud Office (SFO) is currently carrying out a criminal investigation into the accounting irregularities at Tesco.
The company said that if new information came to light from the SFO probe then it "will pursue recovery of the payments and damages and has fully reserved all its legal rights in this respect".
The announcement comes less than a week after Tesco named the 43 stores it is closing across the country, a move that will put 2,000 jobs at risk.