Local Data Company: Empty shops show North-South divide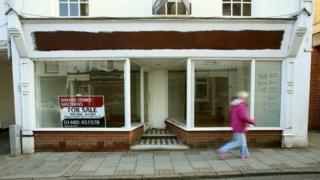 There are twice as many empty shops in England's northern towns and cities as in the South, research suggests.
The Local Data Company, which monitors 3,000 town and shopping centres and retail parks, said one in five shops in the North was now empty, compared with one in 10 in the South.
Despite the deepening regional divide, it said there had been a "marked improvement" overall.
Average vacancy rates have been falling since 2012, the company added.
The average vacancy rate was 13.3% in the second half of last year, down 0.8% on the same period a year earlier, and well below February 2012's 14.6% peak.
The worst affected region was the North East, which had a shop vacancy rate of 18.8% in the second half of 2014.
'Empty Manchesters'
For the previous six years, the worst performing region had been the North West, which the Local Data Company said had a shop vacancy rate of 18.6% for the same period.
London was the best performing region with a vacancy region of 8.7%.
Local Data Company director Matthew Hopkinson said the worst-performing towns all had vacancy rates above 25%, "which is still one in four shops lying empty and no sign or improvement".
Mr Hopkinson said its research also found that 20% of the shops it tracked had been empty for more than three years, amounting to almost 10,000 outlets.
"This is the equivalent of five Manchesters lying empty," he added.
The towns with the highest vacancy rates:
Burslem (West Midlands) 29.4%
Hanley, Stoke-on-Trent (West Midlands) 27.7%
Hartlepool (North East) 27.3%
West Bromwich (West Midlands) 27.1%
Droylsden (North West) 26.8%
Morecambe (North West) 26.8%
Stoke (West Midlands) 26.6%
Bootle (North West) 26.4%
Walsall (West Midlands) 26.2%
Stockport (North West) 25.9%
The towns with the lowest vacancy rates:
Debden (East of England) 0%
Highgate (Greater London) 0%
Beaconsfield (South East) 0.9%
Stanmore (Greater London) 1.1%
Eastgate, Lincoln (East Midlands) 1.3%
West Wickham (Greater London) 1.4%
Cobham (South East) 1.7%
Askew Road (Greater London) 1.8%
Bridport (South West) 1.9%
Oxford, Summertown (South East) 1.9%