Toyota expects record profit on weak yen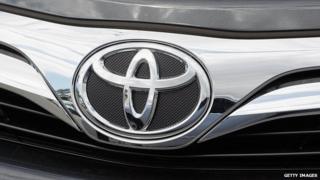 Toyota, the world's biggest carmaker, has raised its annual profit outlook after a weak yen offset a fall in domestic sales.
The Japanese giant now expects a record operating profit of 2.7 trillion yen ($22.93bn; £15bn) for the fiscal year to March, up from 2.5tn yen.
The weaker yen has boosted the value of the carmaker's sales overseas to make up for slow demand in Japan.
The move comes despite Toyota's recall of 1.75 million cars in October.
The recall was over various issues such as faulty brakes and fuel component issues.
US growth
Toyota raised its profit forecast despite cutting its vehicle sales forecast to 9 million units from 9.05 million for the year.
"While we expect a reduction in vehicle sales, we are raising our operating income forecast by 200bn yen to 2.7tn yen, factoring in the change in our foreign exchange rate assumption and the progress in our profit improvement activities, such as cost reduction efforts," said managing officer Takuo Sasaki in a statement.
The yen's decline against the US dollar, which saw it depreciate by nearly 15% last year, has helped exporters like Toyota, which exports about half the vehicles it makes in Japan.
In Toyota's biggest market, the US, the carmaker outperformed Japanese rivals and saw the biggest gains in the April to December period compared with other regions of the world.
The company also increased its annual sales forecast for North America to 2.75 million cars, while it cut forecasts for Japan, Asia and Europe.
Sales in Japan continue to be affected by the sales tax increase which was introduced in April.
The automaker sold 7% fewer cars in Japan in the nine months to December from the same period a year earlier. That was largest decline in sales compared with other regions of the world.