UK food prices saw record fall in January, BRC says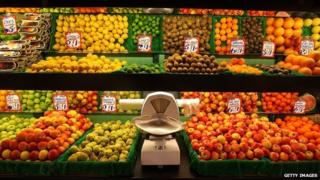 Food prices in January fell by 0.5% from a year earlier, according to the British Retail Consortium, the biggest fall since its survey began in 2006.
Tough competition and falling prices for many raw materials were behind the fall, the BRC said.
Overall, shop prices fell for the 21st consecutive month.
Low inflation, a robust jobs market and rising real incomes could boost consumer spending and be good for shops and customers, the BRC said.
"2015 is shaping up to be win-win year for shoppers and retailers alike," said BRC director general, Helen Dickinson. "Deflation doesn't always translate into bad news for retailers."
Falling oil prices have seen supply chain price falls passed on to customers, the retail body - which represents 80% of UK shops - said.
Prices for all goods dropped by 1.3% in January from a year earlier, a smaller decline than the 1.7% drop recorded in December.
"Heavy discounting in early December resulted in some retailers pulling their new season stock forward, which meant a significant amount of goods were sold at full price in January," Ms Dickinson said.
However, customers snapped up "good bargains for furniture, flooring and electricals", resulting in plenty of stock being shifted in the month, she said.