GM shares rise after better-than-expected fourth quarter profit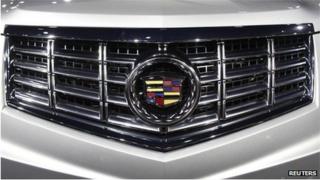 Shares in North American car giant General Motors have risen after fourth-quarter earnings that exceeded analysts' expectations.
Shares in the firm rose more than 5% to $35.83 per share after GM announced quarterly profits of $1.1bn (£720m).
GM said it intends to increase its dividend in the second quarter by 20%, to 36 cents, if its board approves.
Strong sales of sports utility vehicles and trucks helped boost fourth-quarter earnings.
"A strong fourth quarter helped us deliver very good core operating results in 2014, despite significant challenges we and the industry faced," said GM chief executive Mary Barra.
Chief financial officer Chuck Stevens said profitability would improve in all geographic markets in 2015 and that the company was "very much on the path to 10% margins [in North America] in 2016".
Mr Stevens said the company was still predicting a pre-tax profit in Europe in 2016.
Recall impact
Over the year, GM saw a net income of $2.8bn, despite recall costs of $2.8bn.
The company saw multiple car recalls in 2014, including more than 220,000 cars recalled in September over a brake defect.
The firm set $400m aside for the year for legal claims.
North American profit margins for 2014 were 6.5%. Excluding the additional costs for the record vehicle recall, they would have been 8.9%, GM said.
Without the recall costs, 2014 operating profit of $6.5bn would have been $2.8bn higher.
Yearly earnings were not strong in every geographic region. GM's annual loss in Europe widened by almost 60% to $1.37bn, from $900m in 2013, which the firm put down to economic problems in Russia.
Earnings from international operations, including Asia, fell 3% for the year to $1.2bn.
GM in South America reported a full-year loss of $180m, compared with a $327m profit in 2013.