Detroit looks towards a new beginning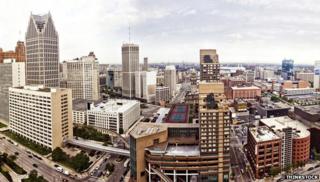 On a recent Saturday afternoon, the gym at Mumford High School in Detroit - near the infamous Eight Mile Road - is packed with hundreds of people carrying orange paper slips.
Although the scoreboard is lit up as if the Mumford Mustangs were playing a basketball game, the crowd is here to settle a very different score.
They've come to purchase side lots - or the empty plots of land next to their homes - for the bargain price of $100.
It's an effort by Detroit's new mayor, Mike Duggan, and the city council to get citizens to help with the maintenance of Detroit's many abandoned properties, which number in the tens of thousands.
The lots are a stark, aching reminder of the middle-class that Detroit's car industry once supported - before outsourcing led to job cuts, and those middle-class strivers fled the city by the hundreds of thousands, emptying out whole neighbourhoods.
That unprecedented flight - the population declined from two million in the 1950s to 700,000 today - snowballed into the city's seemingly inevitable bankruptcy filing a year and a half ago, as tax revenues dwindled and debts mounted.
But as the gym's scoreboard counts the lots sold today - tallied as points scored by the home team - there is a palpable sense here that Detroit, as it begins life as a post-bankrupt city, could make a late-in-the-game comeback.
A tree grows in Detroit
Sherry Shockley, a lifelong resident of Detroit, is one of the hopeful buyers. She's been taking care of the abandoned lot next to her home for 15 years.
"When I first started, there were no trees in the lot - now the trees are as high as buildings," she tells me.
She says the past few years have been difficult, as the city's finances crumbled and basic services such as policing became casualties of chronic mismanagement by Detroit's politicians.
"I have fought off gangs that wanted to scrap this [vacant] house next door," she says. "I would have to go outside and scream: 'You will not tear up my block!'"
But today, she says she can feel there's something in the air. "There's a change in the city - there's a new vibe in the city now," she says.
"I can feel it - I think there's a new feeling of safeness in the city."
Selling out
A year and a half ago, Motor City felt like it had finally run out of gas.
Detroit was a dark and scary place - literally, because only 40% of the streetlights worked.
Even Hitsville, USA - the block of seven houses that made up Berry Gordy's Motown music empire - was surrounded by abandoned homes and empty, grassy lots that did a good job of masquerading as farmland.
The city felt abandoned - a sentiment that was echoed by the people who remained, many of whom felt like the bankruptcy filing was just an attempt by the state of Michigan and the city's creditors to finally, and completely, wipe the city off the map.
When I was here at the start of the bankruptcy trial in October 2013, hundreds of residents had taken to the streets, shouting "banks got bailed out, Detroit got sold out".
A large papier-mache doll of emergency manager Kevyn Orr's head was destroyed by the crowd with obvious glee.
'Really lucky'
The fact that the city escaped from bankruptcy without draconian cuts to Detroit's pensioners - most saw theirs trimmed by 4.5% - and without selling off major assets, like an art collection at the Detroit Institute of Arts that includes seminal works from Matisse and Van Gogh, was something the bankruptcy judge, Steven Rhodes, said "border[ed] on miraculous".
"We got really lucky - we managed to get out of here without selling anything, and I managed to get out of here without getting indicted," said Mr Orr during an "exit interview" last week at the Detroit Economic Club.
Detroit's "grand bargain"
In order to appease its creditors and emerge from bankruptcy, Detroit agreed to several provisions, including a so-called "grand bargain" to save the Detroit Institute of Arts' collection. Those provisions included:
Slashing $7bn of debt to creditors, partially by selling off assets such as the former Detroit Red Wings hockey stadium to Detroit city bond holders like Syncora
A provision to spend $1.7bn reinvesting in city services, like buying new bulletproof vests for police officers and updating old technology to help better collect taxes
A cut of 4.5% to general pensioners' monthly payments and the elimination of annual cost-of-living-adjustment increases
The "grand bargain" which allows Detroit to accept $816m over 20 years from donors, non-profit foundations and the state of Michigan to keep the Detroit Institute of Arts an independent institution
Of course, Detroit is far from its 1960s heyday - and no-one here really expects it to become the economic engine of the Midwest that it once was. And for some, the entire process set a worrying precedent.
Back at the side lot fair, I met Jan and Greg Frasier.
They have just purchased the three lots surrounding Jan's childhood home. While they are impressed with the new mayor's initiative, Greg isn't sure the bankruptcy was the cure-all it's been touted to be.
"Things haven't changed that much in Detroit - the only difference and it's a huge difference - is that we are not empowered," says Greg, a nod towards the fact that many of the changes that came out of the bankruptcy were not actually voted on by Detroit's residents.
Green shoots
But for almost everyone else at the fair, any sign of progress - of a city government that actually is functioning for the first time in years - is enough.
I followed Sherry home to see her newly purchased lot, which once had a home before it was torn down. She excitedly told me about the garden she is planning for the mostly snow-covered space.
"I don't live in Detroit because I'm stuck here or because I have to be here you understand," she says.
"I'm here because of the vibe of the city - I love it. That's the beauty of Detroit."
As she surveys her property, she has to hold back tears.
It is unlikely that she will rebuild the house that once stood there, just as it's hard to see how Detroit can completely resurrect the city that once inspired murals and countless songs.
But a garden is a promising start.