Yum swings to a loss on China sales fall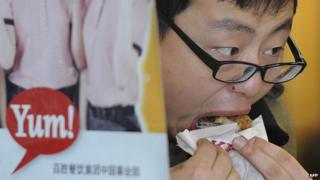 Yum Brands, the owner of KFC and Taco Bell, swung to a loss after sales in China failed to recover from food safety scandals.
The US firm lost $86m (£57m) in the three months to December, compared with a profit of $321m a year earlier.
Same-store sales in China, its biggest market, fell 16% in the quarter, which was its biggest drop in 18 months.
The firm has struggled to attract customers back following allegations a former supplier used out of date meat.
In recent years, Chinese consumers have faced numerous food scandals ranging from tainted milk powder to rat meat being passed off as lamb.
That has made them wary of any businesses that have been embroiled in any food-related scandal.
Yum chief executive Greg Creed said he is confident their China business will recover this year.
"Overall results in 2014 were disappointing as the Chinese supplier incident in July offset our strong first half of the year," he said in a statement.
"Our top priority is to recover sales in China and capture the significant profit leverage we have in this business. While the sales recovery in China continues to be slower than expected, we anticipate a strong second half of 2015 as the turnaround gains momentum, led by menu innovation across the year."
Yum plans to open at least 700 new stores in China, where it already operates more than 6,700 restaurants.