'All roads lead' to a weaker Australian dollar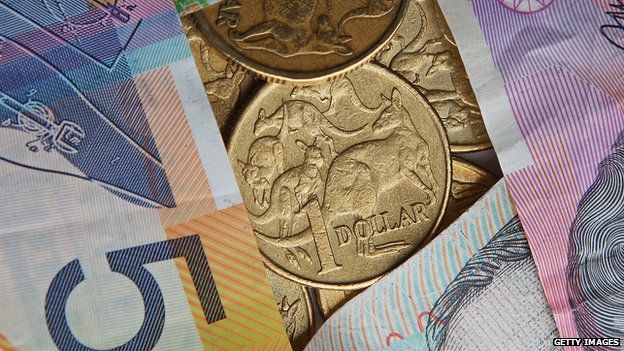 Hovering around six-year lows, the Australian dollar or Aussie has gone from one extreme to another in a couple of years, leaving many wondering how low can this once strong currency go.
Hitting as high as $1.05 against the US dollar just over two years ago, the currency has fallen by more than 25% since then to around 78 US cents.
A combination of a strengthening US dollar, falling commodity prices, and lower interest rates have driven the commodity-linked currency to levels unseen since the global financial crisis.
And while a weaker Aussie is a boon for Australia's exporters and will in turn boost the country's flagging economic growth, it really depends on which side of the coin you are that determines whether you get to reap its benefits.
For Australian travellers, for example, the steep slide in the currency is leaving a bigger than expected dent in their wallets.
Briton Dan Fish, who has been living in Sydney for the past 10 years, says his upcoming ski trip to the US with a couple of friends is now going to be a lot more expensive than they had planned for.
"This sort of trip was always going to be quite expensive but one of the guys I'm going with has been to the States before, I've been to the States before and this will probably be one of the most expensive trips ever," says the 37-year-old sales manager.
The group started planning their trip about six to nine months ago when the Aussie had hit a yearly high against the US dollar at around 94 US cents. It has since fallen nearly 18%.
"Had we known then what we know now, we would have booked a load of stuff in earlier - so that we would have got it in a lot cheaper," says Mr Fish.
While the friends will likely not put off doing any of the things they had planned for the trip, Mr Fish says they will have to put more money aside to make up for the higher costs.
Staycations, more visitors
On the flip side, economists say now is a great time to visit Australia.
Paul Bloxham, Australia & New Zealand chief economist at HSBC says the weaker Aussie dollar discourages Australians from travelling abroad, which is good for the economy.
"They're more likely to spend more time in Australia and spend more money here rather than spending it on overseas holidays," he says. "It encourages more international tourism and more visitors to Australia, which means more local spending as well."
Mr Fish's parents from the UK have visited in him the past in Sydney and had previously said that they "couldn't believe how expensive" Australia was.
But on their current trip to Sydney, where they have been renting an apartment for the past two months, the holiday has been "a lot more cost effective" than before, he says.
"They're over at the moment holidaying here with us and it's a much better outlook for them - they're a lot happier," he says.
"Even though Australia is expensive - it becomes more competitive price wise when everywhere else in the world becomes more expensive."
Australia was ranked as the most expensive country among the world's top G20 economies, according to a World Bank study released in April last year, when the local currency was at a higher level.
With the move by the Reserve Bank of Australia (RBA) this week to cut interest rates for the first time in 18 months to an all-time low of 2.25% in an attempt to stimulate growth, analysts say "all roads lead to a weaker Australian dollar".
"The RBA still thinks the Aussie is too high, which is basically a signal to the markets to carry on selling Australian dollars," says Chris Weston, head of Asia-Pacific research at trading firm IG Markets.
Economists expect the central bank to cut interest rates at least once more in the first half of this year with consensus that the next cut will happen at either its April or May meetings.
"The RBA have a tendency not to cut rates in one. They tend to come in twos and threes - I think a cash rate of 2% this year is likely," says Mr Weston.
With the call for even lower interest rates, the headwinds facing the Aussie dollar could push it to as low as 70 US cents by the end of this year, say analysts.
That's another 10% decline from the current level.
And if that is not low enough, Shane Oliver, chief economist at AMP Capital says that 70 US cents is not the bottom for the Aussie.
"It took 10 years to hit a high at $1.10, and the bottom was at 48 US cents in 2001," he says. "Its downside is driven by commodities, and its [bottom is] very much dependent on what commodity prices do."
The price of iron ore, Australia's most valuable export, fell nearly 50% last year and hit a five-and-a-half year low last week after some loss-making Chinese steel mills cut their output.
Mr Weston of IG Markets, meanwhile, adds that an Australian dollar at 60 US cents could come back as a target in 2016.
While a weaker Aussie will hurt sectors that rely on imports, its wider benefits will outweigh the downside as Australia tries rebalance growth from the end of the mining boom to the non-mining sectors, say economists.
"Low interest rates have already been supporting the housing market with a pickup in house prices and an upswing in residential construction and a lower currency should also help to improve the competiveness of other parts of the Australian economy that need support," says Mr Bloxham of HSBC.
Australia's economic growth surprisingly slowed in the third quarter last year rising by only 0.3% - half the pace expected by economists as mining investment continued to drop off.
However, a weaker Aussie should also give a much needed boost to the mining sector - still the main driver of the economy - as Australia tries to transition, according to Mr Oliver of AMP Capital.
"Miners are paid in US dollars and those US dollars will now be worth more than Australian dollars," he says.
"Things like agriculture, manufacturing, tourism, and service industries like financial sectors - the whole economy benefits from a lower dollar."