Tate & Lyle issues another profit warning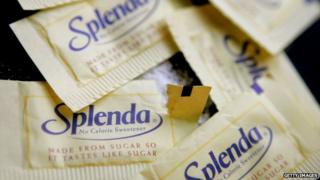 British food ingredient company Tate & Lyle has issued its third profit warning in a year, hit by weak trading at its sweetener business.
The company, which makes Splenda, warned that annual profits would be "modestly below" the range of £230m to £245m that it forecast in September.
The September figure was itself a downgrade from earlier forecasts.
Tate blames competition from cheaper Chinese sweeteners and falling sugar prices in Europe.
Shares closed down 12.3% at 582.69p, valuing the company at £2.7bn. The stock has fallen 23% in the past 12 months.
Tate & Lyle has been struggling over the past year.
Supply issues
A harsh winter in the United States in 2014 reduced Tate's supply of corn which is the firm's raw material for the production of sweeteners.
"The very cold and long winter in the US meant Tate & Lyle came into 2014 with lower [corn] stocks than usual, as the company produces a lot of corn in the US," said Alec Mattinson, finance editor at The Grocer magazine.
"This was exacerbated by a shutdown of its Singapore sucralose factory - meaning it didn't have enough product to fulfil orders," he added.
As an emergency measure Tate had to spend £31m flying orders direct to its customers.
Chinese challenge
David Turner, global food and drink analyst at Mintel, said that the production problems at Tate & Lyle were "short-term issues" that could be corrected with "correct business planning".
In the longer term Mr Turner says that competition from lower priced Chinese sweeteners is a big challenge.
He thinks Tate might be considering buying a competitor to help counter that threat.