Rent-to-own customers face rip-off interest rates of 94%, say MPs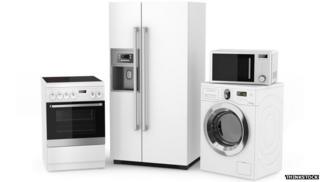 Hundreds of thousands of customers who buy household goods through rent-to-own schemes are being "ripped off", a group of MPs has concluded.
It said some of the poorest people in the UK are being charged interest rates of up to 94% a year to buy TVs or washing machines.
The All Party Parliamentary Group on Debt and Personal Finance now wants the regulator to take action.
BrightHouse, the largest company, said it was disappointed by the report.
Under the rent-to-own model, consumers take out an agreement to buy a product, and then pay weekly instalments until they own it - similar to a hire purchase agreement.
But usually customers have to take out compulsory insurance and warranties, which can double the eventual cost.
The MPs said that such insurance may have been mis-sold - especially where people already had household cover.
Example charges
Hotpoint 7.5kg tumble dryer December 2014
Samsung freezer September 2014
Curry's
£229
Co-op
£249
Argos
£279
John Lewis
£644 (incl. five year service plan)
BrightHouse (total repayable)
£780 (incl compulsory insurance)
£1,716 (five year agreement)
source: APPG/ Which?
'Peace of mind'
In one case a Samsung freezer cost £644 to buy in John Lewis - but, under a five year plan from BrightHouse, the same freezer cost £1,716.
"Rent-to-own stores like BrightHouse charge inflated prices to some of the poorest people in the country," said Yvonne Forvargue, the chair of the parliamentary group.
"Customers are often obliged to take out additional warranties and insurance, as a result paying several times the true value of the goods," she said.
BrightHouse is the biggest chain in the UK, with 291 stores, mostly based in deprived areas.
PerfectHome has 67 shops, and Buy as You View has an online operation.
BrightHouse said it provided high quality products at competitive prices, and was proud to serve its customer base of lower income families.
"Our customers carefully manage their limited resources and appreciate the peace of mind they get from BrightHouse," said Leo McKee, its chief executive.
"We are already working closely with our new regulator, the FCA, and are constantly exploring ways to make our offer to customers even more transparent and competitive," he said.
Assessments
The Financial Conduct Authority (FCA) took over regulation of the sector in April 2014.
The MPs want it to investigate the high charges and the possible mis-selling of insurance policies.
They would like to see health warnings attached to sales agreements.
"The FCA needs to act now to stop rent-to-own customers from being ripped off," said Ms Forvargue.
The FCA said it would respond to the report in due course.
In the meantime, all businesses in the sector will have to be assessed by the FCA, starting in the summer of 2015.
The regulator will look at a number of issues, including how they treat their customers, before deciding whether to authorise them.