Insurance renewals: Axa to set out previous premiums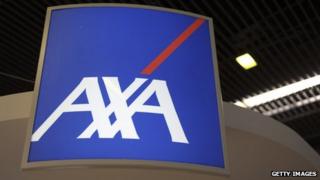 Axa will become the first big insurance company to remind customers in their renewal letters how much they were charged in the previous year.
At the moment customers are not usually told what their last premium was, making a quick comparison difficult.
The Financial Conduct Authority (FCA) is looking at whether renewal notices should change so policyholders can see if their premiums have risen.
The Association of British Insurers (ABI) has devised its own proposals.
The FCA told BBC Radio 4's You & Yours that it was looking at what type of information customers should be getting from insurers in the future, and it will publish its findings in the next few months.
Consumer groups such as Which? have been pressurising insurers to publish clearer premium renewals.
Insurers often charge a low price in the first year of a new policy, as an incentive for consumers to switch, but in many cases the policy premiums rise in the second year.
Research by You and Yours found that none of the biggest home and motor insurance companies currently tell customers how much their previous premium was.
This can leave some customers at a disadvantage because many insurance policies renew automatically, with money taken directly from their bank accounts by direct debit unless they say otherwise.
Chris Dove from Aldbury in Hertfordshire has never made a claim on his buildings insurance from Halifax.
But he found that the cost of his premium had risen by 78% in three years.
"Originally my premium was £205, three years later I got one of those automatic renewal notices and it had become £366," he said.
"Now, looking back I can see it was done by adding roughly 20% onto the premium every year."
Chris discovered that he could in fact ring Halifax for a discount or even go online and find a cheaper policy with them.
Halifax said: "As is common in many competitive markets, we offer some incentives and discounts for new customers.
"We communicate the price clearly at renewal and make cancelling a simple and easy process."
Lloyds Banking Group, which owns the Halifax, one of the UK's biggest insurers, said it was looking into whether the previous year's premium should be quoted on its renewal letters.
Other insurers said they would be willing to adopt this policy too, if the whole industry took the same approach.
Axa's brands - Axa Direct and Swiftcover - will start telling their own customers what they previously paid, for their motor insurance, by the end of February this year. For home insurance the change will be by the end of April.
The ABI has proposed a new minimum standard of information on renewal notices for the whole industry.
It said: "Our proposal, if adopted by the FCA across the market, would significantly improve transparency for millions of customers."
The ABI proposes that the following information should be included in renewal notices:
Renewal documents for motor, home buildings and contents insurance should include the premium that the customer started the year paying, alongside the renewal quote, for easy comparison.
Policy documents for new customers should include a clear explanation that any introductory discounts which may have applied to new customers may not apply when the policy is due for renewal.