Petrobras offshore rig explosion kills three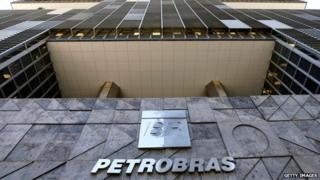 An explosion on an offshore oil and gas platform operated by Brazil's Petrobras has killed at least three workers.
State-run Petrobras said 74 workers were on board the rig at the time and six of them remain missing.
Brazil's oil industry regulator, ANP, says that a fire caused by the blast has been contained and the platform has been stabilised.
ANP also said that no oil leaked from the rig which was located off the coast of Espirito Santo state.
Health officials said that ten workers have been injured.
An official from the union representing workers on the platform said that a gas leak had caused the explosion.
Corruption probe
Petrobras has been at the centre of a huge corruption scandal.
Last week the head of the company and five senior executives resigned following the arrest and testimony of dozens of Petrobras executives and suppliers.
---
Analysis: Daniel Gallas, South America business reporter
Petrobras is facing one of the toughest months in its 61 year old history.
Less than a week ago, its CEO Graça Foster resigned after failing to deal with a corruption scandal that has seen Petrobras shares tumble this year.
The company's new boss Aldemir Bendine was poorly received by market analysts, who are sceptical about his lack of experience in the energy sector.
On Tuesday evening, barely 24 hours before the explosion on the rig, Bendine was on TV giving a rare interview on Brazil's leading news programme - in an attempt to convince investors and the general public of his leadership credentials.
Now Petrobras is again in the headlines. The circumstances around the accident are still unclear, but they are likely to add even more pressure to the company's new management.
---
The scandal involves alleged price-fixing, bribes and kickbacks, which implicates Brazil's ruling party.
Prosecutors have uncovered around $800m in bribes and other illegal funds. More than 200 businesses are being investigated and more than 80 people, including three former executives from Petrobras, are facing possible charges.