Tesla losses mount as China sales disappoint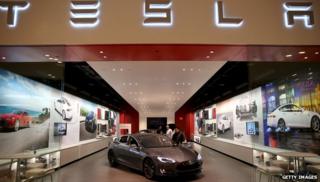 Electric car maker Tesla has reported a fourth-quarter loss of $108m (£71m), compared to a loss of just $16m during the same period a year ago
Earlier in January, chief executive Elon Musk warned that sales in China during the quarter were weak.
Nonetheless, in a statement accompanying earnings Mr Musk said "we remain convinced of the vast potential of this market".
Tesla shares plunged 3% in after hours trading.
Furthermore, Tesla said production delays led to fewer shipments of cars than had been expected in the fourth-quarter.
The company said it built 11,627 vehicles but only shipped 9,834 cars during the period, blaming the miss on production delays and shipping problems.
"While we were able to recover the lost production by end of the quarter, delivering those cars was physically impossible due to a combination of customers being on vacation, severe winter weather and shipping problems (with actual ships)," the company said in its earnings.
Tesla said it planned to deliver 55,000 of its Model S and X vehicles in 2015 - 70% more than it delivered in 2014.