US retail sales fall unexpectedly in January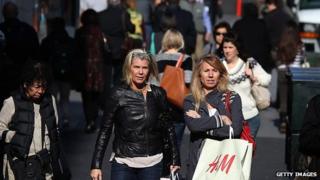 US retail sales have fallen sharply in January, the Commerce Department has said.
Falling petrol and car sales led to a 0.8% drop in overall sales compared to the previous month, the figures show, despite the fall in oil prices.
Excluding those more volatile factors, sales ticked up by 0.1% in January.
Economists said they were disappointed by the numbers and that it could lead to weaker growth. Spending accounts for two-thirds of the US economy.
"With lower gasoline prices leaving households with more to spend... the labour market on fire and consumer confidence back at its pre-recession level, we had hoped to see a much stronger performance," Paul Ashworth, an economist at Capital Economics, said in a note to clients.
He now expects growth in the first three months of this year to be between 2.5% and 3%, below his earlier estimate of 3% or above.
The US economy has been gathering pace in recent months. The latest US jobs report showed another 257,000 jobs were created in January. That was the 11th consecutive month in which more than 200,000 jobs were created - the best run since 1994.
"Overall, the tone of this [retail sales] report was disappointing as it points to a weak start to spending activity this year, despite the significant boost to disposable income from lower gasoline prices," Millan Mulraine from TD Securities told Reuters.
Receipts at clothing stores fell by 0.8%, while sales at sports goods stores fell by 2.6%.
One point the retail sales report did highlight is that the popularity of eating out continues to increase. Restaurant sales jumped 11.3% over the past year.