French energy giant Total plans cuts and asset sales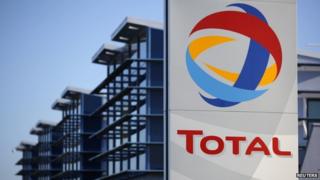 Paris-based energy giant Total is planning major cuts and asset sales in response to the fall in the price of oil.
The company aims to cut its exploration budget by 30% to $1.9bn (£1.2bn), while organic investment will fall by more than 10% to less than $24bn.
Total will also increase previously planned cuts to operating costs by 50%.
In addition, the company is accelerating plans to sell assets between 2014 and 2017.
It intends to offload $5bn-worth (£3.3bn) this year.
Its 2014 accounts showed a 10% drop in net earnings to $12.8bn (£8.33bn).
The company also booked a $6.5bn (£4.23bn) impairment charge on its asset valuation - mainly due to lower values of its assets in Canadian tar sands, US shale gas and European refineries.
Refinery jobs
It is scaling down activities and staffing at its Lindsey oil refinery in Lincolnshire, with nearly 200 of its 580 workers expected to go.
Total is close to becoming the biggest producer of oil and gas in UK waters.
That follows an investment programme of £1bn in the West Franklin oilfield, in the central North Sea. That development began producing oil last month.
It is also spending £3.5bn on the very large Laggan-Tormore gas and oil field, west of Shetland. For that, it has been building a new plant at Sullom Voe on Shetland.
That is due to come onstream later this year. After that, Total's investment in its UK offshore activities will quickly fall away.
Chief executive Patrick Pouyanne said: "After delivering on our commitment to reduce expenditures in 2014, all of the group's segments are expanding their cost-cutting programmes to get through this period, with no compromise on the absolute priority to safety.
"With its high-quality teams, financial strength and ability to adapt, the group is focused for the short-term on generating cash flow and reducing its breakeven point, and for the medium term confirms its growth strategy."