Man held in London over links to Islamic State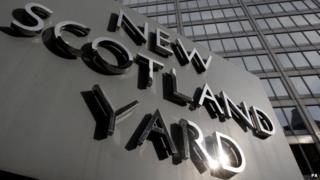 A 32-year-old man has been arrested on suspicion of being a member or supporter of Islamic State (IS).
He was arrested by the Met Police's Counter Terrorism Command at an address in Newham, east London, on Saturday.
The man is also suspected of collecting information which may be useful to somebody who commits or prepares acts of terrorism, and of encouraging acts of terrorism.
He was questioned at a south London police station and later bailed.
Met Police said he was bailed, pending further inquiries, until mid-March.
The arrest was made under the Police and Criminal Evidence Act.
IS is one of 63 organisations currently banned under the UK's Terrorism Act 2000.
The extremist Islamist group has announced the establishment of a "caliphate" - an Islamic state - in parts of Iraq and Syria, forcing minority communities from their homes and brutally killing civilians, soldiers and journalists.