German investor confidence hits 12-month high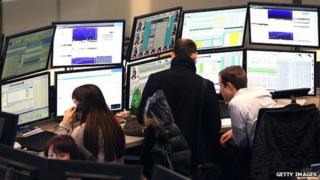 Investor sentiment in Germany has risen to a 12-month high in February, a survey suggests.
The closely-watched ZEW survey shows its investor confidence index has risen to 53 points, the highest since February 2014.
"Quantitative easing by the European Central Bank and unexpectedly high economic growth... improved sentiment," said ZEW President Clemens Fuest.
But the situation in Greece and Ukraine could hurt sentiment, he warned.
In January, the ECB pledged to inject at least €1.1 trillion (£834bn) into the ailing eurozone economy. It will take the form of buying €60bn bonds each month from banks until at least September 2016, in a programme known as quantitative easing (QE).
Germany's economy grew unexpectedly strongly in the fourth quarter of last year, expanding by 0.7% in the final three months of 2014.
However, the survey of 227 analysts and investors was conducted between 2 February and 16 February, before Greece's failure to agree a deal with Europe on its bailout.
"The intensification of the Ukraine crisis and the collision course of the new Greek government are dampening expectations," said Mr Fuest.