Supermarket price war hits Asda sales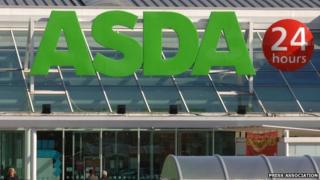 Sales at Asda fell towards the end of last year as supermarket price wars hit the company's performance.
Asda posted a 2.6% fall in like-for-like sales in the 12 weeks to the beginning of January resulting in an overall decline of 1% in 2014.
Asda cited a "structural shift in the market" as the cause of the decline.
Competition from German discounters Lidl and Aldi has put pressure on the UK's Big Four supermarkets.
The market remains in "one of its most challenging and changeable periods in history", said Asda's chief executive Andy Clarke.
Asda spent £300m on lowering its prices in 2014 in a bid to compete in the ongoing price war.
Asda is far from alone in its difficulty to maintain market share. Tesco's like-for-like sales fell 2.4% in the six weeks to the beginning of January.
Sainsbury's saw its sales decline 1.7% in the 14 weeks to 3 January and Morrisons' sales fell 3.1% in the six weeks to 4 January.
Asda has said that it intends to spend £600m in 2015 on investments including 17 new stores and 150 Click and Collect sites.
Asda is owned by the American retailer Walmart.