UK retail sales fall 0.3% in January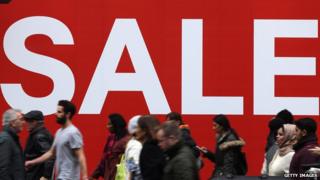 UK retail sales fell 0.3% in January from the previous month, according to figures from the Office for National Statistics.
The decline in sales follows a 0.2% rise in December 2014.
The January figure was a 5.4% rise on a year earlier, the ONS said.
UK High Street shops have been reducing their prices in an effort to attract customers, the figures indicate. Average store prices were 3.1% cheaper than last January.
This was the largest year-on-year fall since consistent records began in 1997, the ONS added.
Online sales in January were up 12% on January 2014.
"The prospects for retail sales and consumer spending overall for 2015 currently look bright, given significantly improving real earnings growth, rising employment and elevated confidence," said Howard Archer, chief European and UK economist at IHS Global Insight.
"Furthermore, it now looks highly possible that interest rates will not rise until 2016."
He also noted that food store prices had been particularly squeezed, falling 1.6% because of supermarket price wars.
Lloyds Bank retail managing director Keith Richardson said: "As retailers try to get back to normal after several months of promotions-driven sales, the message from shoppers is clear: heavy discounts are the new norm."
Mr Richardson added: "Retailers and consumers have overdosed on a diet of Black Friday, Boxing Day and early January sales. They are due a hangover."