A Greek deal - for now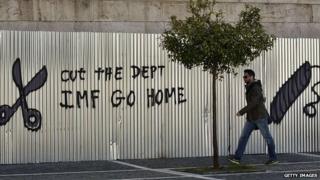 The Eurogroup has agreed a deal with Greece to extend its bailout past 28 February, when the rescued country faced the prospect of not having a financial backstop while it remains still shut out of debt markets.
But, as always, the devil is in the detail.
Greece has until Monday to come up with a list of reforms, which if agreed by the institutions formerly known as the troika of the EU, IMF and ECB, will mean they get a four-month extension of the current bailout programme.
They will have access to eurozone funds for bank recapitalisation during this period, which is important. And, the expectation of the Greek finance minister Yanis Varoufakis is that the ECB will extend their "waiver", which will keep the cash flowing to Greek banks.
This is very important, since billions reportedly have been leaving Greece and it faced a Cyprus-like scenario where capital controls ended up being imposed.
The eurozone has set a deadline for the end of April to agree the reforms.
The statement says that the Eurogroup will take into account "Greek policy priorities", which Mr Varoufakis says makes them "co-authors" and gives the Greeks some flexibility that the new Greek government wanted after six years of a crippling recession that helped sweep it into power.
And that is key. Did the Greek government wrestle back enough control with this agreement to satisfy the Greek people?
Notably, the Eurogroup statement also says:
"The Greek authorities commit to refrain from any rollback of measures and unilateral changes to the policies and structural reforms that would negatively impact fiscal targets, economic recovery or financial stability, as assessed by the institutions."
This means that Greece can set its reforms, but within fiscal parameters.
Important concession
The statement also says that Greece's primary fiscal surplus (budget position excluding debt interest payments) for 2015, which was set at 3% of GDP, now can respond to economic conditions. This means that if the economy were to worsen, then Greece has some leeway in meeting it.
Mr Varoufakis says that it means Greece is no longer forced into recessionary conditions, so he clocks that as an important concession. He also says that they wanted the overall constraint on their fiscal position "in a sense".
Stocks markets have rallied on the news with the S&P 500 and Dow Jones hitting record highs, the latter's first record in 2015.
But others are sitting back and waiting for the dust to settle.
Notably, the next step is to see whether the Greek list will be (entirely) agreed on Monday or if we face the prospect of a fourth Eurogroup meeting on Tuesday to continue the Greek debate.
Then, there's the end of April and the end of June to look ahead to as the next two key dates since the Greek issue will not be resolved next week in any case.