Greece debt deal: Reforms will 'combat tax evasion'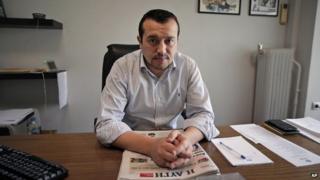 Greece will crack down on tax evasion and streamline its civil service in its bid to secure a bailout extension, minister of state Nikos Pappas says.
The government is working on a package of reforms that it must submit to international creditors on Monday.
If the reforms are approved, Greece will be granted a vital four-month extension on its debt repayments.
Mr Pappas said the reforms being proposed would take the Greek economy "out of sedation".
"We are compiling a list of measures to make the Greek civil service more effective and to combat tax evasion," he told Greece's Mega Channel.
He added that talks this week would be "a daily battle... every centimetre of ground must be won with effort".
The agreement reached on Friday with European finance ministers extends Greece's financial rescue programme by four months - but creditors gave Athens till Monday to come up with a list of reforms.
The reforms must then be approved before eurozone members ratify a bailout extension on Tuesday.
'Illusion' apology
Many analysts have described Friday's agreement as a climbdown and one prominent Syriza euro-MP has expressed his frustration.
In a blog Manolis Glezos, a 92-year-old wartime resistance hero, said: "I apologise to the Greek people because I took part in this illusion."
"There can be no compromise... between a slave and a conqueror, the only solution is freedom," Mr Glezos said.
On Saturday Greek Prime Minister Alexis Tspiras said in a televised address that his government had "won a battle, not the war".
If the reforms are approved and the deal stands, the immediate risk of Greece running out of money would be removed, giving the country time to negotiate further to change the terms of the bailout.
---
Greek economy in numbers
Unemployment is at 25%, with youth unemployment almost 50% (corresponding eurozone averages: 11.4% and 23%)
Economy has shrunk by 25% since the start of the eurozone crisis
Country's debt is 175% of GDP
Borrowed €240bn (£188bn) from the EU, the ECB and the IMF
Greek crisis deepens amid EU tension
Greece bailout talks explained in 60 seconds
---
Greek Finance Minister Yanis Varoufakis has said he would work night and day to devise the reforms.
"If the list of reforms is not agreed, this agreement is dead," he said.
The new Greek government was elected by promising to reverse austerity.
It says the conditions imposed on the country by its lenders have had a devastating effect on the economy.
Greece borrowed €240bn (£188bn) from the EU, the European Central Bank and the International Monetary Fund, on the condition that it cut spending and raised taxes to reduce its debt levels.
The economy is now 25% smaller than it was at the start of the financial crisis, with youth unemployment standing at almost 50%.