Lloyds share sale cuts government stake to below 24%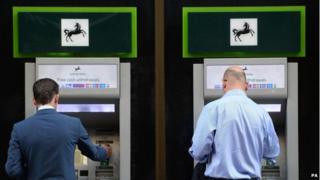 The government has sold another parcel of Lloyds shares, raising £500m and cutting its stake to below 24%.
Lloyds ended up being 41% state-owned after the government ploughed in £20bn to keep the bank afloat in 2008 after the financial crisis began to bite.
The government started selling Lloyds shares in 2013, and the latest sale means it has now raised nearly £8bn.
The shares were sold for more than the 73.6p average price paid by the government.
In Monday trading Lloyds shares were up 1.3% at 79p.
The latest sale has cut the government's stake to 23.9% from 24.9%.
The Chancellor, George Osborne, said in a statement: "This is further progress in returning Lloyds Banking Group to private ownership, reducing our national debt and getting taxpayers' money back."
UK Financial Investments (UKFI), which manages the government's stakes in Lloyds and rival RBS, hired Morgan Stanley late last year to sell Lloyds shares on the stock market.
Reports have suggested that Lloyds will announce it is resuming dividend payouts to shareholders when it reports its annual results later this week.
Neither Lloyds nor RBS have made such a payment since receiving government support.