German business morale holding up, Ifo survey says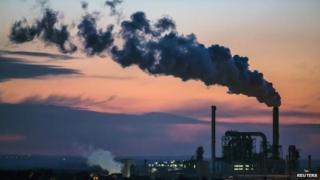 Confidence among German businesses is holding up despite problems in the eurozone and other uncertainties, a survey by the Ifo institute suggests.
Its latest Business Climate Index inched up to 106.8 points in February from 106.7 points last month.
However, this was below forecasts, with worries over the situations in Greece and Ukraine affecting firms' views of current trading conditions.
The Ifo survey assesses the views of about 7,000 firms in Germany.
Despite concerns over current trading conditions, the survey found that optimism about future prospects had improved.
"The German economy is proving robust in the face of geopolitical uncertainty," said Ifo president Hans-Werner Sinn.
Figures released earlier this month showed that Germany's economy - the largest in the eurozone - grew by 0.7% in the final quarter of 2014, comfortably beating analysts' forecasts.
The latest Ifo figure of 106.8 was the highest since July last year, despite being below analysts' expectations of 107.7.
"[The] February Ifo business climate data corroborates the encouraging signals of the previous three months for the near-term outlook for the German economy," said Timo Klein, senior German economist at IHS Global Insight.
"The burdening factors weighing on business confidence for most of 2014 - notably the uncertainty created by ongoing geopolitical tensions in the Ukraine and the Middle East and the inability of the eurozone as a whole to embark on a meaningful economic recovery path - are increasingly being superseded by the supportive influence from large oil price and euro declines.
"Any tensions related to the Greek situation have seemingly only dampened the assessment of the current situation a little, whereas the outlook for the next six months remains upbeat."