Should we be worried by FTSE record high?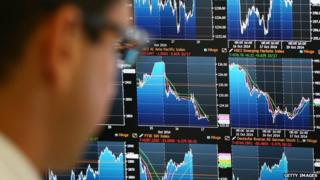 The FTSE 100 index of leading UK shares closed at a record high of 6,949.63 on Tuesday, surpassing a landmark that had stood since December 1999. But is its growth a reliable barometer for the UK economy?
Fifteen years is a very long time for UK shares to stay below their previous peak, but Tuesday's landmark, while psychologically important, does not tell us a huge amount about the state of the UK's finances.
First, there is a temptation to look at the price chart and start to worry. The last time share prices were at this level was in the dotcom bubble of the late 1990s.
And the last time they approached it - although falling short - was just before the credit crunch and recession. So many will no doubt claim that a FTSE closing at just below 6,950 is a sign of a bubble in the stock market.
That isn't really a fair analysis. To see if we are in a bubble one needs to look not just at the level of share prices, but the kind of valuations being attached to them.
The FTSE 100 - a financial rather than economic indicator - is measured in nominal (i.e. cash) terms rather than real, inflation adjusted, ones.
Corporate profits are considerably higher than in 1999 and so the price-to-earnings ratio - one key measure of valuing shares - is lower than at the previous peak.
While the FTSE could go up or down from this level, it is far less obviously overvalued than it was 15 years ago.
'Accumulation of income'
The second temptation is to say that investors who bought shares way back on the eve of the millennium have had to wait 15 years to get their money back. Again, this misses a crucial element - dividends.
Investors in stocks have two ways of making money. The first, and the one that gets the most attention, is capital gains - the fact that share prices gradually rise over time.
---
Ten years of the FTSE 100:
2014: 6,566 down 2.7%
2013: 6,749 up 14.4%
2012: 5,898 up 5.8%
2011: 5,572 down 5.6%
2010: 5,900 up 9.0%
2009: 5,413 up 22.1%
2008: 4,434 down 31.3%
2007: 6,457 up 3.8%
2006: 6,221 up 10.7%
2005: 5,619 up 16.7%
---
The second is from income - the dividends paid each year by most companies listed on the stock market.
If an investor had bought the FTSE 100 in December 1999 and reinvested the dividends received ever since, they would have made around a 50% return.
This is further proof of the old adage that in the long run "timing the market" - or buying the lows and selling the highs - is less important than "time in the market", the gradual accumulation of income from buying and holding shares.
Global economy
Finally, there is always a temptation to read straight across from the performance of the FTSE 100 to the prospects for UK business.
---
Biggest daily rise in FTSE 100:
24 November 2008: up 9.84%
19 September 2008: up 8.84%
13 October 2008: up 8.26%
Biggest daily fall in FTSE 100:
20 October 1987: down 12.22%
19 October 1987: down 10.84%
10 October 2008: down 8.85%
---
The FTSE 100 doesn't really reflect the UK. While it contains large UK-focused companies such as Tesco, it also contains large banks like HSBC - with interest outside the UK - and a lot of global oil and mining firms.
It may tell us less about Britain and more about the global economy.
All of that said, the FTSE has been on a tremendous rally since 2009 - almost doubling in just under six years. And psychological factors do matter, hitting a new high can buoy investor and corporate optimism further.
---
What is the FTSE 100?
Founded in January 1984, the FTSE measures the total share value of the top 100 companies listed on the London Stock Exchange
The index began with a base level of 1,000 points
The total value of the FTSE 100 companies is about £1.9tn - in 1985 it was £164bn
Best year was 1997 when it rose 24.69% over the 12 months
There has only been one day in history when the FTSE was not calculated, during the Great Storm of October 1987
Companies can be promoted or demoted from the FTSE
Companies are weighted, with the bigger firms accounting for a larger proportion of the index
The 101st to 350th next most valuable companies are listed on a second-tier index, the FTSE 250
---
'Riskier' investments
One big question that remains to be answered is how much of that near doubling has been driven by ultra-low interest rates and the electronic creation of money through quantitative easing.
This has lowered the returns on holding cash and traditionally safe assets like government bonds, and pushed investors into riskier assets like stocks and shares.
This should have supported business investment - as higher share prices make it easier for firms to raise money - and consumer spending, as households that feel wealthier are more likely to spend.
But if some of the FTSE 100's growth has been driven by low interest rates, then what happens when they start to rise? On that issue, only time will tell.