UK property sales dropped in January, HMRC figures show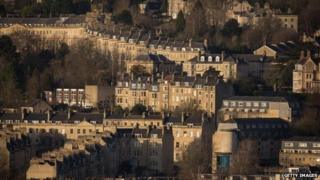 UK property sales fell in January, dropping by 6% compared with a year ago, but estate agents' views vary on the significance of the decrease.
Transactions totalled 97,320 in January, according to the latest seasonally-adjusted figures from HM Revenue and Customs (HMRC).
That is the lowest level since October 2013, and the fourth consecutive monthly drop in sales.
Numerous commentators are expecting house prices to rise by 4% in 2015.
'Changing mood'
Property sales were at their highest level since the start of the financial crisis last year, with 1.2 million properties changing hands.
However, sales have started to dip in recent months.
Peter Rollings, of estate agents Marsh and Parsons, said that buyer demand was "still rosy" so he expected activity to pick up again.
"January has seen a boost in agreed sales, which has firmly set the ball rolling for 2015, and this will only gather faster momentum during the spring - typically one of the most popular times to move house - when these completions come to fruition," he said.
However, estate agent Jeremy Leaf said that stricter rules on mortgages and the uncertainty caused by the upcoming election would dull activity.
"The slowdown has come with a thud. At the beginning of the year we were seeing movement but over the last few weeks there has been a change in the mood," he said.
The picture, as it has been for some time, varies depending on local housing markets, although recent official figures suggest that prices are rising to some degree in every nation and region of the UK.
House price annual inflation stood at 10.2% in England, 4% in Wales, 5.5% in Scotland, and 4.9% in Northern Ireland in 2014.
House price calculator
Use our calculator to see where you can afford to rent or buy