US housing market recovery 'faltering'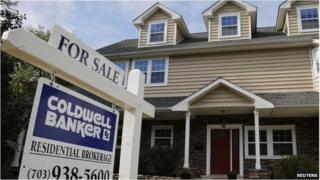 US house prices grew at twice the rate of inflation in 2014, according to the S&P/Case Shiller housing survey, but it says the recovery is "faltering".
Price growth edged up slightly in December, with prices up 4.5% from a year earlier compared with a rate of 4.3% in November and October.
The 20-city home price index covers about half of US homes.
The survey said there was "softness" in the housing market despite the otherwise robust economy.
The most recent figures showed that the US economy slowed slightly in the fourth quarter of 2014, expanding at an annualised pace of 2.6% compared with a rate of 5% in the previous quarter.
However, the US economy is still performing well, and the latest employment figures showed that an average of 336,000 jobs have been created a month for the past three months - the best three-month pace in 17 years.
David Blitzer, chairman of the index committee at S&P Dow Jones Indices, said: "The housing recovery is faltering. While prices and sales of existing homes are close to normal, construction and new home sales remain weak.
"Before the current business cycle, any time housing starts were at their current level of about a million... the economy was in recession.
"The softness in housing is despite favourable conditions elsewhere in the economy: strong job growth, a declining unemployment rate, continued low interest rates and positive consumer confidence."