Goodyear to pay $16m for Kenya and Angola bribery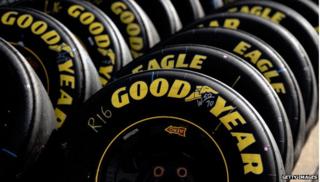 US tyre firm Goodyear will pay $16m (£10m) to US regulators over allegations it failed to stop bribery in its Kenyan and Angolan operations.
The Securities and Exchange Commission (SEC) said Goodyear's subsidiaries paid more than $3.2m in bribes to employees of government-owned and private companies.
The bribes, paid from 2007-2011, were hidden in Goodyear's accounting.
The company neither admitted nor denied the charges.
Goodyear said in a statement that it has implemented "remedial measures" and that it has ceased its ownership interest in the Kenyan business, and it is in the process of selling its Angolan operations.
"The settlement with the SEC fully resolves all outstanding issues related to these investigations," the company said.
As part of the agreement with the SEC, Goodyear will turn over $14.1m in illicit profits and pay interest of $2.1m.
"Public companies must keep accurate accounting records, and Goodyear's lax compliance controls enabled a routine of corrupt payments by African subsidiaries that were hidden in their books," said the SEC's Scott W Friestad in a statement.
"This settlement ensures that Goodyear must forfeit all of the illicit profits from business obtained through bribes to foreign officials as well as employees at commercial companies in Angola and Kenya."