Strong dollar hurts HP's full-year earnings forecast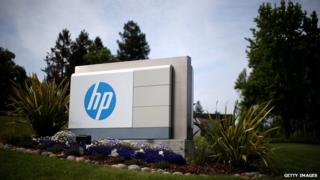 Hewlett Packard, the world's second biggest computer maker, has forecast worse-than-expected full-year results, blaming a strengthening US dollar.
The firm also said its revenue for the quarter ending in January was $26.8bn (£17.3bn), down 5% from a year earlier.
And net income fell to $1.37bn from $1.43bn a year earlier.
HP is in the midst of restructuring its business and has been struggling to adapt to a new era of mobile and online computing.
The firm saw its shares fall more than 6% in after hours trading on the news.
Analysts said the report showed the company was struggling.
"Cash flow fell 75% year-on-year to $744m," said IG's market analysts Evan Lucas.
"Enterprise services are down 11%, software is down 5%, as was imaging, and printing margins in these three divisions were also lower than the market expected," he said.
"It's a tough time at HP."
Outlook
For the full-year to October HP expects a profit of between $3.50 and $3.70 per share, which is below the level most analysts were expecting.
The company said the stronger dollar was having a "significant impact" on its financial outlook.
"While we were able to manage the impact of currency in the quarter and deliver earnings as expected," HP chief executive Meg Whitman said, "we believe the impact on [full year 2015 earnings] will be significantly greater than we anticipated in November."
She said the firm would work hard to offset currency impacts, but that "fully mitigating currency movements of this size would require reducing investments and mortgaging our future".
And she said the firm would not do that.
In October last year, the tech giant said it would split itself into two separate companies, moving its better-performing computer and printer business from its corporate hardware and services operations.
The reorganisation plan has seen tens of thousands of jobs cuts in recent times.
Founded by Bill Hewlett and Dave Packard in 1939, HP helped usher in the PC revolution and has some 300,000 employees globally.