O2 owner Telefonica sees profit fall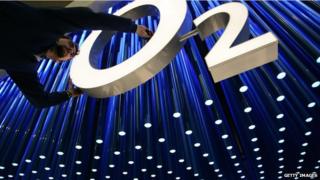 Spanish telecoms group Telefonica, which owns the O2 mobile network, has reported a 35% fall in its annual net profit to €3bn (£2.2bn).
The company reported full-year revenues of €50.4bn, and revenue is expected to grow by more than 7% this year.
Last month, it emerged that Asia's richest person, Li Ka-shing, was in talks to buy O2, which is the UK's second-largest mobile provider.
His company already owns the Three mobile network.
If Three-owner Li Ka-shing buys O2 and combines it with the Three network it would create the UK's biggest mobile group, although such a deal is likely to face tough scrutiny from competition regulators.
O2 had also attracted the attention of BT Group, before BT eventually chose to purchase rival network EE.
O2 added 318,000 new customers in the last three months of 2014, comparing favourably to both Vodafone and EE.
The chief executive of O2, Ronan Dunne, told the BBC that O2 had enjoyed its "best quarter in six years."
He said that O2's success was in its simplicity, adding that the provider would continue to be "mobile focused".