Southwest Airlines forced to ground uninspected planes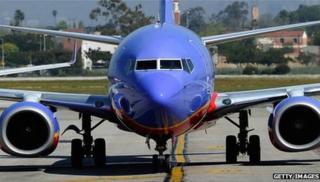 US airline Southwest was briefly forced to ground some flights on Tuesday.
The cancellations came after it was revealed the budget carrier neglected to carry out safety inspections on about one fifth of its planes.
The US Federal Aviation Administration (FAA) later ruled that the airline could fly the uninspected planes for a maximum of five days as safety checks take place.
"The airline is working quickly to resolve the situation," said Southwest.
In a statement, the airline said that it discovered that a check on the standby hydraulic system on about 128 of its Boeing 737 planes was overdue.
"Southwest immediately and voluntarily removed the affected aircraft from service, initiated maintenance checks, disclosed the matter to the FAA, and developed an action plan to complete all overdue checks," it said.
After grounding those affected planes for about six hours - leading to 80 flight cancellations - the FAA told the airline it could continue to fly the planes that missed the inspections.
Southwest, which is the world's biggest discount carrier, has approximately 665 Boeing 737 planes in its fleet as of 2014.
The airline has been in trouble with regulators before. Last May, it was fined for deceptive advertising tactics.
In 2011, the airline came under fire after a hole opened up in one of its plane cabins mid flight, and a subsequent inspection revealed three other planes suffered from similar cracks that led to the fissure.