Ladbrokes to close 60 UK shops as profits fall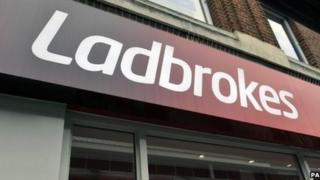 Bookmaker Ladbrokes has reported a big fall in pre-tax profit for 2014, from £68m to £38m, and expects to close 60 UK shops in the coming year.
The firm, which has more than 2,000 UK stores, blamed "regulatory headwinds" and a disappointing Boxing Day.
Ladbrokes said that the impending rise in gaming machine taxes meant more closures would be inevitable.
Last year, councils were granted powers to refuse planning applications for High Street betting shops.
The move came after the Department for Culture, Media and Sport said that concern had increased over "clustering" bookmakers in some UK towns and city centres.
The company's chief executive, Richard Glynn, said: "Whilst recognising there are regulatory headwinds, Ladbrokes is confident in its plans for 2015.
"Strong operational delivery delivered a second half of growth as envisaged, but the £8m hit on Boxing Day did take some of the shine off our performance."
He added that for 2015, the company would be focusing on digital and international growth - digital revenue for 2014 was up 23%.
Ladbrokes is searching for a new chief executive after announcing in December that Mr Glynn would be stepping down this year.