How many cheers for migration?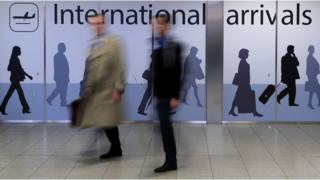 One contentious measure of the success of the British economy is the sheer number of foreigners who want to come here to work.
In the year to September 2014, some 271,000 people from overseas migrated here to work, which was the highest number since this data was first collected (so for at least a decade), and is up from 217,000 in the previous year.
The bulk of these working migrants came from the rest of the European Union, with the biggest rise in percentage terms - from 17,000 to 27,000 - in migration from new EU members, Bulgaria and Romania, known as the EU 2.
However there was also a big rise in migration for employment from outside the EU, from 42,000 to 66,000.
Skilled workers
And although there has been a lot of griping by companies about a putative government crackdown on allowing in highly skilled foreigners to work here and make up for lacunae in domestic talent, there was a substantial 13% increase in work visas granted to higher skilled individuals from abroad.
As for who got the work visas, most went to people working in information and communication, technical and scientific and finance - so a couple of sectors where the UK could do better (the techy areas), and one where (for better or worse) the UK is a world leader (hello to the Square Mile).
This influx of working migrants demonstrates that the UK is widely seen as an attractive place to work. And presumably we should be pleased and flattered.
Except that of course some of the low skilled migrants take jobs and drive down wages for locals.
Good or bad?
But it would be wrong to believe foreigners are taking all our jobs: over the past year, the growth in overall employment was 611,000, of which 39% - or considerably less than half - were jobs taken by non-Brits.
None of this of course answers the explosive political question of the moment - about whether migration is good or bad for the economy in the long term, and good or bad for our way of life.
But it is presumably better to live in a country which is attractive to foreigners than one where the talented (and untalented) have no desire to live or work.