Malaysia's AirAsia posts first loss in two years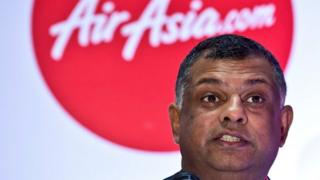 AirAsia, one of the continent's most successful carriers, has posted its first net loss in two years, citing currency exchange losses and higher taxes.
In December, the Malaysian airline's Flight QZ8501 crashed into the Java Sea, with 162 people on board.
The firm said its net loss for the three months to December amounted to 429m Malaysia ringgit ($120m; £77.8m).
The result compares to a MYR169m profit for the same quarter a year earlier.
The airline said foreign exchange losses of MYR647.6m together with higher airport landing costs in Malaysia had contributed to its poor results.
AirAsia chief executive Tony Fernandes also said the December crash, which involved an Airbus A320-200 flying from Surabaya in Indonesia to Singapore, had caused a slight slowdown in demand at the beginning of the year.
"But we are seeing it recovering well now," he added.
"This year and the next couple of years, the group will not be taking in a large number of aircraft every year like before, hence enabling the company to preserve cash".
Now one of Asia's most successful carriers, with the slogan "Now Everyone Can Fly", AirAsia was once a struggling Malaysian government-owned company.
In 2001, Tony Fernandes, a former music executive, purchased the debt-laden carrier for 25 cents.
Together with its associates and subsidiaries, the firm now covers some 100 destinations across more than 15 countries.
AirAsia was listed in Malaysia in November 2004.