Wide gap in regional house prices, Land Registry figures show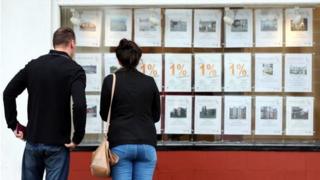 The gap between the most expensive and the cheapest regional average house prices in England and Wales is more than £350,000, figures show.
Average property prices in London were £458,283 in London compared with £97,974 in the North East of England in January, Land Registry data shows.
Prices across England and Wales rose by 1.3% on average compared with December.
The annual rate of increase slowed to 6.7%, with every region seeing at least a slight rise over the year.
Prices of semi-detached homes increased the fastest, with a 7.4% rise over the same period.
The average property price in England and Wales was £179,492 in January, the figures show.
'Unhealthy divide'
Such a geographical divide in house prices can create an issue for the movement of workers.
Families looking to move to London from other areas of the country will find they have little chance of buying an equivalent sized property in the capital, despite a likely increase in wages.
Yet, Business Secretary Vince Cable said that the generational divide in home ownership was arguably a bigger issue, describing the situation as "unhealthy".
Young adults in England are far less likely to own their property than their counterparts 10 years before, figures from the English Housing Survey show.
In 2003-04, some 59% of households made up of 25 to 34-year-olds were owner occupied compared with 36% a decade later.
Instead, young adults have been renting a home from a private landlord while trying to save up for a deposit and watching house prices rise sharply - faster than the rise in the cost of living - in some parts of the country.
"A generational gap has opened up in a spectacular and worrying way," Mr Cable said, arguing that council-built housing was a "missing piece in the jigsaw".
"We are only seeing the first stage of the problem. If it continues for 20 to 30 years, we will be in a position that older people cannot cover living costs and rent. We will have a massive housing benefit bubble waiting to burst."
Flat-pack houses
Part of the solution, Mr Cable argued, was to encourage housebuilders to use new technology to build homes faster and cheaper.
On Thursday, he announced a £22m grant to boost the development of flat-pack houses, with parts manufactured off-site before being pieced together at the development.
Steve Turner, of the Home Builders Federation, said there was an acute housing shortage, but a balance needed to be struck between building speed and quality.
He said that underdevelopment of homes over decades was not an issue that could be solved quickly.
Completed new homes over a year in England total about half the approximately 300,000 a year built between World War Two and the early 1970s.
The Labour Party has vowed to ensure 200,000 homes built a year by 2020 if it gets into power, partly by giving councils the power to order developers to build on they hold with planning permission.
The Conservatives want 100,000 starter homes built for first-timer buyers to buy cheaper than the norm.
House price calculator
Use our calculator to see where you can afford to rent or buy