Russian oligarch buys North Sea oil and gas assets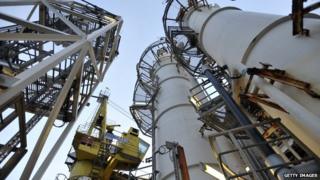 German energy company RWE has closed the sale of 12 North Sea oil and gas fields to a Russian oligarch.
The deal went through despite objections from the UK government.
On Saturday the Department of Energy said it opposed the deal "in its current form" and expressed concern about "possible future sanctions" on Mr Fridman and his LetterOne fund.
There are fears that the deal could run counter to sanctions imposed over the crisis in Ukraine.
"We are delighted to have completed the acquisition of Dea," said Mikhail Fridman, chairman of LetterOne.
"We are convinced that the current macroeconomic environment and the low oil price, give us an opportunity to achieve our ambition."
A report in the Financial Times said Mr Fridman had threatened legal action against the UK government if it attempted to block the acquisition.
As part of the deal, LetterOne is creating a new subsidiary, L1 Energy, to be run by former BP chief executive Lord Browne.
"The sale of RWE Dea demonstrates that even in difficult conditions, we continue to realize our plans. Both parties negotiated good value for money, and RWE can now focus fully on its core business," said RWE AG's chief executive Peter Terium.