Average income back to pre-crisis levels, says IFS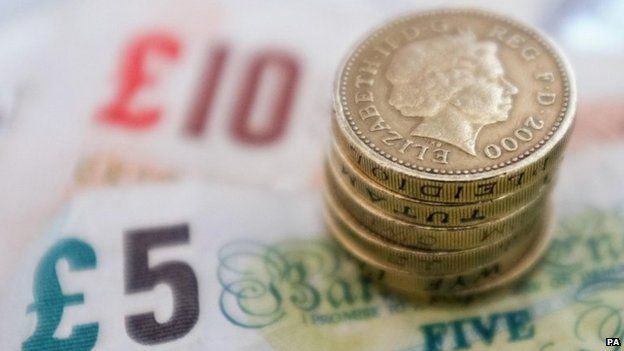 Average household incomes are back to where they were before the financial crisis, according to research by the Institute for Fiscal Studies (IFS).
However the think tank also found that incomes for working age people were still below their 2007-08 level, after adjusting for the impact of inflation.
Only over-60s will have higher incomes this year than 2007-08, the IFS report said.
That is partly because pensioners have been protected from benefit cuts.
Living standards have also risen more slowly than after previous recessions, the IFS concluded.
It said this was mainly a result of weak growth in earnings for those in work, but it said tax increases and benefit cuts, as part of the government's actions to reduce the deficit, had also had a negative impact on average incomes.
"It's astonishing actually that seven years later incomes are still no higher than they were pre-recession and indeed for working-age households they're still a bit below where they were pre-recession," IFS director Paul Johnson told the BBC.
But those over 60 have fared much better than younger age groups.
State pensions are "triple-locked", which means they have risen by inflation, earnings or 2.5%, whichever is the highest.
As a result many pensioners have seen their incomes rise by a relatively generous amount.
However pensioners are typically at the lower end of the income scale.
Analysis: Robert Peston, BBC economics editor
The IFS is careful not to pin most of the blame for stagnating living standards on either the coalition government or on the preceding Labour one.
It says that the prime culprit is the UK's hard-to-explain woeful productivity performance - lacklustre rises in the output of workers - which has meant that significant wage rises have been unaffordable.
What will be galling to both Labour and Tories is that the IFS also faces two ways on the contentious question of whether inequality of income has worsened since the Crash.
It says that if you assume that inflation is the same for all households, then income inequality is lower in 2014-15 then in 2007-08 - largely because of those steep rises in benefit payments in 2008 and 2009 that I mentioned earlier.
But in practice, it says, inflation between 2007 and 2010 was more pernicious for the poor than the rich, because of steep rises in food and energy prices which gobble up a disproportionately large portion of the incomes of the poorest.
So adjusting for this differential impact of inflation, income inequality barely changed in this period, the IFS argues.
The IFS paper said median household income continued to rise during the recession, and peaked in 2009/10.
This may be explained by the time lag between economic performance and changes in pay.
However, household income then fell between 2011 and 2012, driven by falls in workers pay, and by rising unemployment.
Since then employment has recovered, but real pay has not.
Other findings of the analysis are that:
Median household income in 2014-15 is now back to the same level as it was in 2007-08, but is still more than 2% below its 2009-10 peak
Median household income grew by just 1.8% between 2011-12 and 2014-15
Median income for those aged between 22 to 30 is 7.6% lower in 2014-15 than in 2007-08, while for those aged 31 to 59 it is 2.5% lower, but for those over 60 it is 1.8% higher.
The IFS said changes to spending patterns also suggested that people think their income prospects have been permanently affected by the recession, with consumption of non-durable goods, such as food and fuel, still significantly lower than at the same point in previous recessions.
"The key reason living standards have recovered so slowly has been weak earnings growth. In the long run, policies that boost productivity, and so increase real earnings, are likely to have a bigger impact on living standards than changes in tax and benefit rates," Robert Joyce, an IFS senior research economist, added.
Chancellor George Osborne told Radio 4 that the IFS findings marked "a major milestone in our recovery".
"But it's not the end of the journey. This has been a difficult recovery because we've had such a deep recession," he added.
But Cathy Jamieson, Labour's shadow financial secretary said the IFS report "confirms that working people are worse off since 2010".
"We need a recovery that reaches kitchen tables across Britain, not one which has left working people worse off," she added.
Related Internet Links
The BBC is not responsible for the content of external sites.