India surprises with second interest rate cut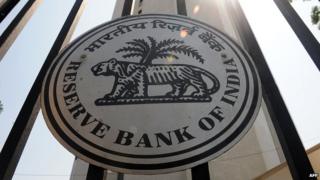 The Reserve Bank of India has cut its key interest rate, in a surprise move for the second time this year.
The central bank in Asia's third-largest economy lowered its policy repo rate by 25 basis points to 7.5% after making a similar cut in mid-January.
The repo rate is the level at which the central bank lends to commercial banks.
Citing a weaker economy, both of the reserve bank's cuts this year have taken place outside scheduled policy meetings, surprising the market.
The rupee rose as much as 61.88 against the US dollar - its strongest since the beginning of February - after the move.
Meanwhile, the benchmark BSE Sensex index rose 1.4% to hit a record high of 30,010.91 - the first time its crossed the 30,000 mark.
---
Analysis: Simon Atkinson, Editor, India Business Report
When rates were cut in January most economists predicted it would be just the start of a rate-cutting cycle and so it has proved.
Industry has long complained that rates were too high, that borrowing money to invest was too expensive. And with India's push to "Make in India", another cut is welcome news for manufacturers.
It also makes loans for things like homes, cars and motorbikes more affordable, which is good for consumer sentiment.
This second surprise rate cut comes just a few days after the long-awaited first full budget of the Modi government.
And so, to me, this looks like a vote of confidence from the central bank, perhaps especially the way the finance minster gave himself an extra year to hit the 3% budget deficit target - specifically to allow more infrastructure spending on the roads, bridges and other projects so badly-needed.
---
Inflation factor
The move comes after the government delivered its first annual budget last week and days after the central bank and government agreed to introduce inflation targets.
Central bank governor Raghuram Rajan said softer inflation and the government's commitment to fiscal discipline were factors behind the easing measure.
"Softer readings on inflation are expected to come in through the first half of 2015-16 before firming up to below 6% in the second half," he said in a statement on Wednesday.
India's inflation has eased sharply due to falling oil prices from last year and rose to an annual 5.11% in January - well below the reserve bank's 6% target.