Eurozone economy picks up speed as retail sales rise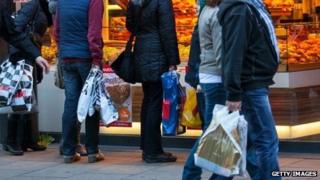 Eurozone retail sales rose for a fourth consecutive month in January, official statistics have shown, indicating the zone's economy may be picking up.
Retail sales rose 1.1% from December and by 3.7% compared with the previous January, the European Union statistics agency Eurostat said.
It is the biggest monthly increase since May 2013 and marks the highest annual increase since August 2005.
Spending on fuel was the biggest driver of the increase.
Automotive fuel sales rose 3.2% in the eurozone from the month before, and non-food sales were up 1.2%.
However, there were sharp disparities between individual countries, with strong increases in monthly sales in Germany and Portugal offsetting weaker performances in countries such as France where monthly sales rose just 0.1%.
Deflation fears
Consumer spending is a key element of economic growth, which has been held back in the eurozone by a mixture of high unemployment and economic uncertainty.
There had been fears that negative inflation in the eurozone, with prices in January 0.6% lower than a year earlier, could affect consumer spending, with shoppers delaying purchases in the hope that their cost would go down.
However, spending is likely to have increased in part thanks to lower oil prices, which have left people with more money to spend on other goods and services.
"This reinforces our belief that eurozone growth will pick up markedly to 1.6% in 2015 as it benefits appreciably from very low oil prices, a much more competitive euro and substantial ECB stimulus,'' said Howard Archer, chief European economist at IHS Global Insight.
A separate report on Wednesday suggested the eurozone economy grew in February at its fastest rate in seven months.
Markit's eurozone composite purchasing managers' index for February rose for the third month running to 53.3 from 52.6 in January, boosted by new factory orders.
Any number above 50 indicates expansion, and the rise means the index is now at its highest level since July last year.
Chris Williamson, Markit's chief economist, said the most encouraging aspect of the survey was the signs of renewed growth in France, Europe's second-largest economy.
"The outlook has brightened for all countries,'' he said.