Russian oligarch Mikhail Fridman given North Sea deadline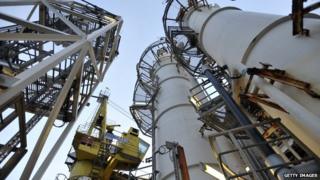 Russian oligarch Mikhail Fridman has a week to convince the UK government not to force him to sell newly acquired North Sea oil and gas assets.
The UK government has concerns that production at the fields could stop if the west imposes more sanctions on Russia over Ukraine.
It wants the assets sold to a third party.
German firm RWE finalised the sale of energy company DEA UK to Fridman's investment vehicle LetterOne on Monday.
The deal went through despite objections from the UK government.
Ed Davey, Britain's energy minister, wrote to Mr Fridman's firm on Wednesday.
"Ed Davey has given them seven days to explain why the secretary of state should not now proceed to issue notices under the licences to require further changes of control," the department of energy said in a statement.
"Protecting these assets is the secretary of state's priority."
On Saturday the Department of Energy said it opposed the deal "in its current form" and expressed concern about "possible future sanctions" on Mr Fridman and his LetterOne fund.
There are fears that the deal could run counter to sanctions imposed over the crisis in Ukraine.
As part of the deal, LetterOne plans to create a new subsidiary, L1 Energy, to be run by former BP chief executive Lord Browne.