AbbVie to buy Pharmacyclics drug maker for $21bn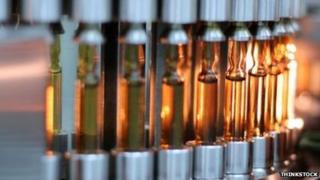 US drugs maker AbbVie has said it will buy cancer drug specialist Pharmacyclics for $21bn (£13.76bn, €19bn).
Pharmacyclics makes the blockbuster cancer drug Imbruvica.
The move follows the collapse of AbbVie's plan to take over the UK drugs giant Shire last year, a deal that was aimed at reducing AbbVie's US tax bill.
The price breaks down to $261.25 for each Pharmacyclics share, 13% above Wednesday's closing price.
The offer is in cash and shares, so fluctuations in AbbVie's own share price will affect the value to Pharmacyclics shareholders.
AbbVie's chief executive, Richard Gonzalez, said: "Imbruvica is not only complementary to AbbVie's oncology pipeline, it has demonstrated strong clinical efficacy across a broad range of hematologic malignancies."
Imbruvica has US approvals to treat four types of blood cancer, and sales of the drug in the US are forecast to be worth $1bn this year.
AbbVie scrapped its attempted takeover of Shire in October last year following a change in US tax rules which aimed to curb tax advantages gained through overseas takeovers.
Earlier this year, Shire clinched a deal to buy US biotech firm NPS Pharmaceuticals for $5.2bn.