All US banks pass first phase of 'stress test'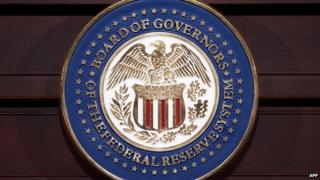 All 31 US banks have passed the first hurdle in the Federal Reserve's latest round of annual "stress tests" to see how they would cope in the next economic crisis.
The central bank said the banks had enough capital to keep lending during a severe global recession.
This was the first time since the tests began in 2009 that all banks had a capital level above the minimum amount.
But some Wall Street giants were among the worst performers.
Goldman Sachs, Morgan Stanley and JP Morgan Chase were among the five banks with the lowest readings for a capital ratio of at least 5%.
The ratio compares capital - a bank's ability to withstand losses - with the loans it has issued, which are weighted for their relative risks.
In the next round of tests, the Fed will determine whether the banks can maintain those capital levels and still return money to shareholders.
On Wednesday, the central bank will approve or reject requests for increases to shareholder payouts such as dividends.
The tests were designed to restore confidence in the US financial system after the government had to provide a $700bn (£459bn) bailout package to stabilize hundreds of banks during the global financial crisis in 2008.