Argentina demands HSBC repay $3.5bn in offshore funds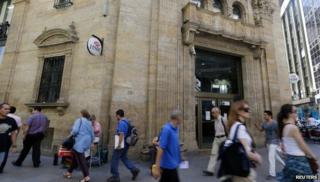 The head of Argentina's tax authority has demanded that HSBC repatriate $3.5bn (£2.3bn) in funds that it says HSBC helped its clients move offshore.
Ricardo Echegaray said that HSBC's actions threatened the stability of the Argentine government.
"HSBC built a platform to help clients evade tax," said Mr Echegary in a press briefing at London's Argentine embassy.
HSBC said it had "been cooperating fully with Argentine regulators, including AFIP (the tax authority").
It also said it was working with the Argentine judiciary, since the allegations were first made public last year, and it would continue to do so.
Mr Echegaray said British tax authorities had asked for details about Argentina's case against HSBC.
"Without tax collection, there is no government, there is no public policy, there is no State, that is to say there is no country," said Mr Echegaray.
Expanding scope
Last November, Argentina accused HSBC of helping more than 4,000 clients evade taxes, but HSBC denied the charges, saying it respected Argentine law.
Nonetheless, Argentina filed a criminal complaint against HSBC for tax evasion and illegal tax association, which could carry prison sentences of up to 10 years.
As part of his briefing, Mr Echegaray further revealed that on 8 March, at the request of the Argentine tax authority, police raided HSBC's Argentine branch in search of documents.
As part of that raid, Argentine authorities found documents indicating that most of the paperwork associated with the accounts were stored a firm called "Iron Mountain", which had been the subject of arson in February 2014.
Mr Echegaray also said that Argentine tax authorities had requested information from the tax administrations in the Virgin Islands, Uruguay and Bermuda, and that a new committee in Argentina's Congress had been set up to investigate whether other banks had used similar strategies to that of HSBC.
More questions
Mr Echegaray's remarks came hours before several current and former HSBC executives answered questions from a panel of MPs about the tax scandal at HSBC's Swiss private bank.
---
Analysis: Business editor, Kamal Ahmed
The demand that HSBC "repatriates" $3.5bn in funds to Argentina - made today by the head of the Argentine equivalent of Her Majesty's Revenue and Customs (HMRC) - shows an approach which sharply contrasts with that of the UK tax authorities.
Ricardo Echegaray says that unless HSBC makes a public statement that it "respects" the payment of taxes it will be accused of engaging in "financial piracy".
He certainly wants a battle through the courts over the allegations that HSBC allowed clients to evade taxes via its Swiss private banking arm in 2006.
Criminal action is high on his list of priorities and he has named the people he thinks are guilty of aiding tax evasion.
Mr Echegaray also reveals that HMRC only contacted the Argentine authorities over the Swiss tax evasion allegations on February 13.
Although not commenting on whether this was suitably "tough", he does point out it was a different approach from that employed by the tax authorities of France, Italy and Spain.
He described each of those as "very active", saying they had "responded quickly".
More from Kamal: HSBC - where does responsibility lie?
---
HSBC group chief executive Stuart Gulliver, the former head of the bank's private banking division, Chris Meares, and BBC Trust boss Rona Fairhead, who formerly led HSBC's risk committee w for failing to take responsibility for lax oversight at the bank.
Margaret Hodge, the chair of the Public Accounts Committee, told the witnesses that HSBC appeared to be "rich in bureaucracy and very, very short on common sense".
She added: "When things go wrong in the public sector on your watch you resign. No one has deigned to accept responsibility."